If you want your posters to look as "perfect" as possible by having the fold lines
and imperfections fixed, you may want to consider Linen Backing.

PLEASE SCROLL DOWN FOR PRICING AND ORDERING INFORMATION

A Linen Backed poster is a poster that is archivally mounted to acid free paper and canvas where it can be restored if needed. Fold lines and other defects become less noticeable, sometimes even invisible. It can be rolled for shipping and is ready for framing. Linen backing can dramatically improve the overall appearance of a poster and it can substantially increase its value. It is the preferred archival method for conserving and/or restoring a poster. Almost any flaw can be fixed so you would never know it was there.
Some of our posters have already been Linen Backed. For those that haven't, and if you would like us to do it for you, the process usually takes 2-4 weeks. Please see full article below for more information.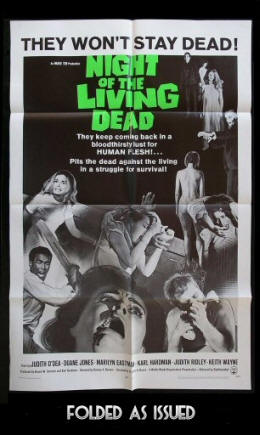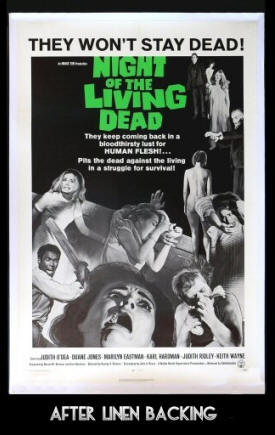 The vast majority (greater than 95%) of original vintage movie posters issued before the mid 1980's were issued folded. Most of these posters were used and may have slight wear like pin holes, small tears, etc. On the left is a typical folded One Sheet in its natural state, the way it was issued. On the right is how it appears after linen backing. The original folds and any minor defects are made virtually undetectable from normal viewing distance (in most cases). They can still be seen but only upon very close inspection.
Some of our posters have already been Linen Backed (please see article below). Those that haven't, we can have done. If any restoration is done it is usually very minor and involves touching up the fold lines to make them less noticeable. This can actually increase the value.
We ONLY use world renowned paper conservation professionals that are considered to be the best in the business. They do the work for all the major movie studios and auction houses around the world.
Please keep in mind that all Linen Backers are NOT created equal. We have seen some horrible results from those that claimed to be professionals but obviously weren't. DO NOT LET YOUR LOCAL FRAME SHOP ATTEMPT TO DO IT!
Any extensive restoration may cost extra.
The process usually takes 2-4 weeks. Prices range from $155.00 to $1295.00 or more depending on the size. Please see below for pricing.
Linen Backing is usually reserved for PAPER posters, not cardstock posters like inserts and half sheets. To preserve or PAPER BACK a cardstock poster, please contact us.
Defects that can be removed/disguised/fixed include: folds, tears, pin holes, tape stains, water stains, writing, foxing, missing paper, mold, snipes (stickers), wrinkles, browning, and ink stamps. Please be aware that after Linen Backing and restoration most defects will be completely disguised/invisible, however some defects may still be slightly visible under extremely close inspection.
Linen Backing and Restoration: How Does It Affect Value?
We only recommend Linen Backing for posters that need it.
Linen Backing is NOT recommended for newer posters, double sided posters, or for older rolled posters that are still in Near Mint Condition and need no restoration.
For older folded posters: If you don't like fold lines and/or it is not in what you consider "displayable condition", and you purchased it mainly to display and enjoy, and you are not very concerned about its "investment potential", then we recommend you go ahead and have it Linen Backed and preserved. If you are a die hard movie poster investor/collector, you may want to think twice about having an EX C8 or better condition poster backed. There is a belief among some investor/collectors that EX C8 or better unrestored posters will command a premium over restored/linen backed posters.
If a rare poster has some unsightly flaws, linen backing and restoring it will most likely increase it's value.
If a rare poster is in EX C8 condition or better with no real major unsightly flaws, linen backing will either have almost no effect on its value or slightly decrease its value. This really depends on how rare the poster is.
There are two types of buyers of vintage movie posters: collectors and non collectors. A non collector buys just one or a few posters for a home theater, a gift, or for decoration. At least 50% of our sales are to non collectors. We have found that non collectors generally prefer linen backed posters. Most true "Collectors" of vintage movie posters would prefer an unrestored non linen backed poster over a restored linen backed one. Most of these collectors still collect linen backed posters however because many titles are so rare and few have survived in great condition.
The bottom line: Linen Backed posters sell better than non Linen Backed posters because they appeal to both collectors and non collectors. In most cases, you can't go wrong if you have your poster Linen Backed.
If a poster is ROLLED in NM C9 condition, it probably will not need any additional restoration other than straight linen backing.
If a poster is FOLDED in NM C9 condition, it may need slight additional restoration (most likely, touching up the fold lines).
If a poster is in EX C8 condition, it may need additional restoration. Please call us for details.
Can Linen Backing be reversed? No, not really. Some linen backers will tell you it is a reversible process, but it really isn't. If for any reason a poster needs to be removed from linen (i.e. the initial linen backing was poorly done) the poster will almost always have to be mounted again.
Here is another example of what Linen Backing can do. This is a stunning Italian 39"x55" stone litho from the film "Tread Softly Stranger" starring Diana Dors.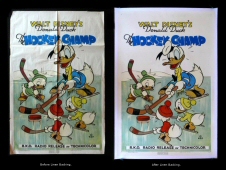 Walt Disney's Donald Duck in "The Hockey Champ".
Here is one last example of what Linen Backing and restoration can do. This is a highly coveted U.S. one sheet for "Creature From The Black Lagoon". Small pieces that were missing have been completely replaced! Only an expert can tell this was done upon very close inspection.
---
PRICES FOR
LINEN BACKING & RESTORATION

ONE SHEET APPROX. 27" x 41" (OR SIMILAR/SMALLER SIZE LESS THAN 31"X43")
WITH TYPICAL MINIMAL FOLD LINE TOUCH UP & RESTORATION $395.00


THREE SHEET APPROX. 41" X 81" or 40"x60" $695.00

WITH TYPICAL MINIMAL FOLD LINE TOUCH UP & RESTORATION

ITALIAN FOUR SHEET APPROX. 55" X 79" $895.00 + Actual shipping (Please call)
WITH TYPICAL MINIMAL FOLD LINE TOUCH UP & RESTORATION

SIX SHEET OR LARGER (UP TO A 24 SHEET) Custom Quote $1295.00 to $4595.00 (Please call)
WITH TYPICAL MINIMAL FOLD LINE TOUCH UP & RESTORATION
PRICES FOR
PAPER BACKING & RESTORATION
Paper backing is a very common form of restoration method for card stock posters. It is the accepted conservation method preferred by professionals and long time collectors (as opposed to dry mounting). When a poster has been "paper backed" it has been professionally mounted onto a piece of high quality Japanese rice paper, and then onto a piece of very thin acid-free backing board. Almost all of the posters defects are corrected (or greatly minimized). THIS IS A PROCESS SIMILAR TO "LINEN BACKING", but it is usually reserved for CARD STOCK posters (inserts, half-sheets, lobby cards, and window cards) where the poster remains in a form similar to how it was when it was unbacked (this is personal choice and not a matter of right or wrong). Paper backed posters can not be rolled as they are too stiff. They must be shipped flat.
YOU HAVE A CHOICE!
All card stock size posters listed below can be restored with or without adding paper and acid-free backing board to the back of the poster (unless the item is really heavily damaged, then it must be paper backed). Some collectors actually prefer it if the poster is kept in its original state with just minimal work done. Price will be the same with or without paper added to the back. Please specify when ordering, or call us to discuss whether we recommend it or not for your particular poster.

LOBBY CARD 11" x 14"
WITH TOUCH UP AND SLIGHT PAPER RESTORATION $175.00

SET OF EIGHT CARDS WITH TOUCH UP AND SLIGHT PAPER RESTORATION $995.00

Here is an example of what paper backing can do. This is a stunning half sheet for "East of Eden".
PLEASE ALLOW 3-5 WEEKS FOR DELIVERY OF LINEN BACKED AND PAPER BACKED POSTERS.
IF WE ARE ALSO HAVING IT FRAMED PLEASE ALLOW AN ADDITIONAL TWO WEEKS.
PLEASE CALL FOR PRICES ON ALL OTHER SIZES
RETURN POLICY
POSTERS WE HAVE LINEN BACKED/PAPER BACKED/RESTORED FOR YOU can be returned for any reason, however we will issue you FULL CREDIT ONLY towards the purchase of another poster or posters from us.
WHY DO WE HAVE THIS POLICY FOR LINEN BACKED/PAPER BACKED/RESTORED POSTERS?
Once a poster has been restored, it is forever changed. Although the process may be reversible, it usually isn't and is almost never done. There are some collectors who will not buy a restored poster, and they believe any poster that has been restored has lost some of it's value.
BLACK BACKING
NO LONGER AVAILABLE
Black Backing is the same exact process as regular Linen Backing, except the paper used is black. The canvas backing is the same cream colored material. The paper used is also acid free. Usually a Linen Backed poster has an approximate 1" white border. With Black Backing, the border is black instead of white. Some collectors believe that a Black Backed poster looks better framed than a regular Linen Backed poster. We offer this as an option for one sheet or smaller paper posters.